About Us
Maven Sustainability's vast experience has exposed us to a wide range of solutions which were designed to accommodate the building use and the scale of each specific project. Our past experience is invaluable to ensure that we offer our clients the most innovative, cost-effective, and efficient systems for their building.
Maven Sustainability's consultants have been recognised for their creativity and innovation in four prestigious industry competitions:
• 2011 "Rethinking the future" competition organised by the BCO – RUNNER-UP
• 2009 "Office of the teenies" competition organised by RIBA and the BCO – WINNER
• 2002 "Coversion" The European Urban and Regional Planning Awards – JOINT WINNER
• OPDM award for Sustainable Communities
Maven Sustainability is the sister company to Maven Plan an established active planning consultancy. Combined the practices are able to deliver a holistic approach to ensure the development potential of a site is maximised.   www.mavenplan.com

---
David Apple
---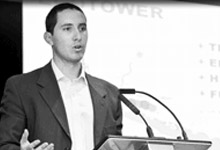 BSc Mech Eng, MBA
David worked as the head of the sustainability department for a London-based engineering consultancy for 5 years prior to joining Maven Sustainability. David is now recognised as a leader in the sustainability design industry. His ability to provide practical solutions while thinking outside the box have been acknowledged by his appointment to the NextGen committee of the BCO, by the publishing of his innovative carbon-policy-related articles in the UK, US, and France, and by winning and being runner-up in two industry design competitions organised respectively by RIBA and the BCO.
David has experience with the design of all low and zero carbon systems. His experience includes the technical and financial feasibility studies for solar photovoltaic panels, solar thermal, CHP, biomass boilers, wind turbines, ground source heat pumps, air source heat pumps, river-water cooling, fuel cells, evaporative cooling, district heating, solar generated flash de-salination, and anaerobic digestion.
---
Ivan Ball
---

BSc
Ivan Ball has been in the development industry for the past 25 years and has spent time with Charles Church, Cala and Laing Homes and from 1996 to 2006 was a Director of Linden Homes based in Caterham, Surrey. Initially as Technical Director and Design Director of the South East regional company from 2004 to 2006 he was Group Director of Sustainable Communities and developed the Group's policies on sustainability and energy.
As well as a good understanding of the technical issues relating to energy efficiency and renewable technologies Ivan also has considerable experience in developing mixed use, mixed tenure communities. He has been involved in the creation of three Community Development Trusts and was a Trustee for six years with the Caterham Barracks Community Trust.
Ivan holds a BSc with a specialism in Residential Development is a Member of the Chartered Institute of Building and has successfully undertaken the professional examinations of the Royal Institution of Chartered Surveyors. In addition Ivan is a licenced Code for Sustainable Homes and EcoHomes assessor.